We Have Access to Manufacturing Companies in China Making Every Type of Casting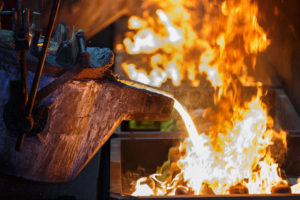 aluminum castings
iron castings
steel castings
investment (lost wax) castings
bronze castings
precision castings
sand castings
brass castings
forgings
Over the years we've supplied a variety of castings to our customers. In addition to offering low costs per part, the mold, tooling or pattern costs can be 50-90% lower than that of domestic suppliers. The savings of the molds alone can be in the tens of thousands of Euro.
Third Party Quality Inspections
We know that consistent quality is your concern. In addition to the factory's quality control processes, our people in China spot check the shipments for dimensional and material defects. We also offer optional third-party independent inspections.
We can quote any secondary options needed, including drilling, tapping, machining and grinding, as well as finish processes such as nickel or chrome plating, anodizing, black oxide, paint, powder coating or other types of finishes.
In the case of plastic injection molding, all types of plastic parts are also available.
Interested in getting a casting prototyped? See the Prototyping page of our website for more information.